Gardening Hack #2 – Hang 'Em Up!
Hanging pots are perfect for the small-space gardener. Hanging planters can be hung outdoors as well as indoors to add to your decor. You can use hanging pots, baskets, or even repurposed colanders as hanging planters. This is perfect for an apartment balcony or a small backyard deck.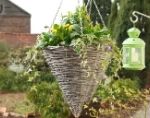 Plants actually tend to live longer and healthier lives when they are grown higher off of the ground due to having fewer pests and less soil issues. Not only is this a space-saver, but tending to hanging plants is much easier on a gardener's back. Just be sure to check frequently so that they don't dry out in hot weather. These uniquely designed hanging baskets pictured below easily attach to the center posts of a standard wooden deck. Just imagine looking out your window in your home office or living room to the sight of flowers and herbs growing along the deck rails. Want to add even more greenery to your view? Next up, we're taking a look at some raised beds that let you get the most out of even the smallest of yards.