An above ground pool can make a boring backyard fun again. Above ground pools can provide you with a way to cool off on a warm day, or hours of fun activity and exercise for the whole family. There are many ideas to enhance your pools look and appearance to make it the best addition to your home.
Some of these ideas include adding a pool deck, creating an oasis, and using a themed design to help decorate the area. Lights may also be added the pool area to enhance both the security and safety for all involved. There are many landscaping ideas that may be created with a little imagination to design the perfect backyard backdrop for the pool.
A local landscaper can be hired to add in the landscaping elements you'll need. The DIY-inclined individual may also create landscaping dreams for their personal style on a budget.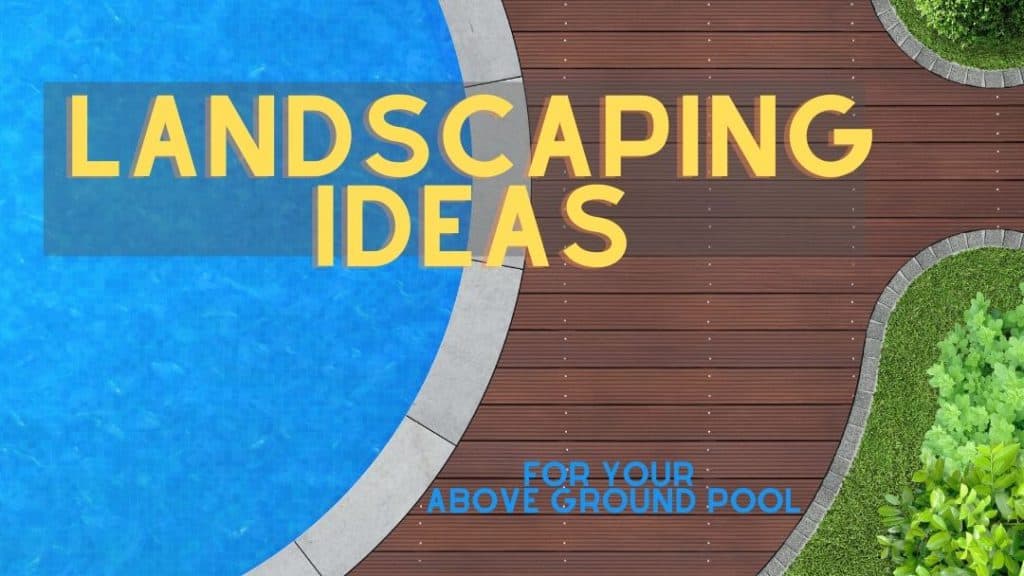 No matter how you decide to tackle projects around the home though, we're going to give you the best list of above ground pool ideas you can possibly imagine. I would say let's dive right in, but I'll save that line for the follow-up article on Inground Pool Landscaping. Safety First!!!
Pool Decking
The above ground pools provide a great opportunity for an addition of a deck. The design of the pool can have the deck either surround one side or wrap around the entire pool. It is usually best made from treated wood, which provides for a steady and beautiful design. There are many different types of wood to choose from starting with a light colored pine to a dark colored cedar, it just depends on personal preference. The DIY type person with many ideas may also be interested in decorating the deck with stones, mulch, and outdoor furniture.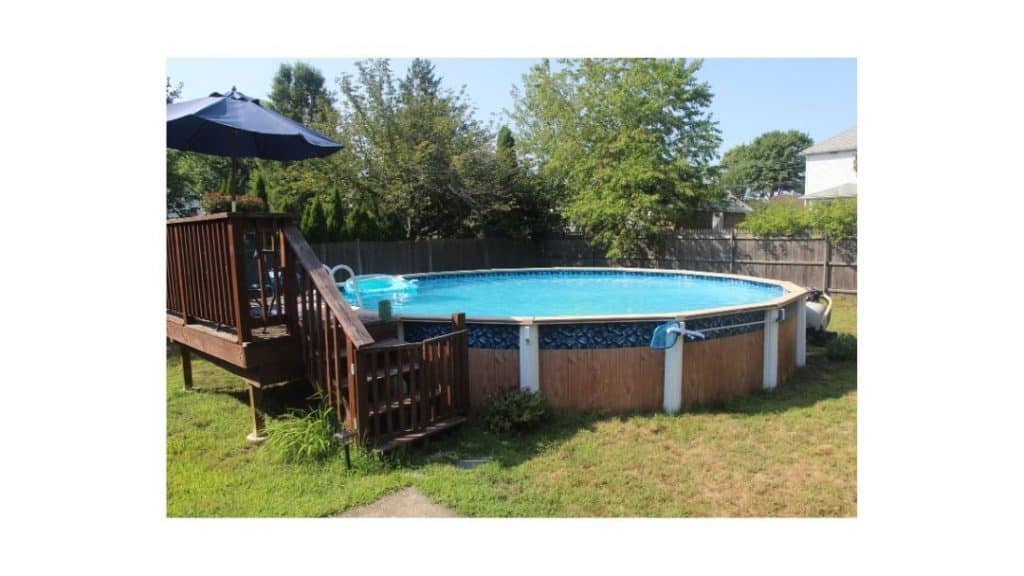 It could be either be small or large deck, depending upon the size of the pool and how it is designed. There are many design features that can add beauty and texture, while making you completely unaware that the pool is even above ground. Some of these items include lighting, adding flower beds with rocks and stones among plants and flowers for visual pleasure. Those looking to entertain or lay in the sun could include sitting areas with furniture such as loungers and couches. Potted plants and trees provide shade for those looking to escape the sun, while enjoying the beauty of the pool. Lights can be wrapped in this area to ensure that a nighttime swim in safe.
Those are some of the basic ideas you usually come across when you're trying to improve the look and design of your pool area after installing decking. Below we will go into more detail on design themes and even some fun DIY options to help you enjoy the great outdoors even more.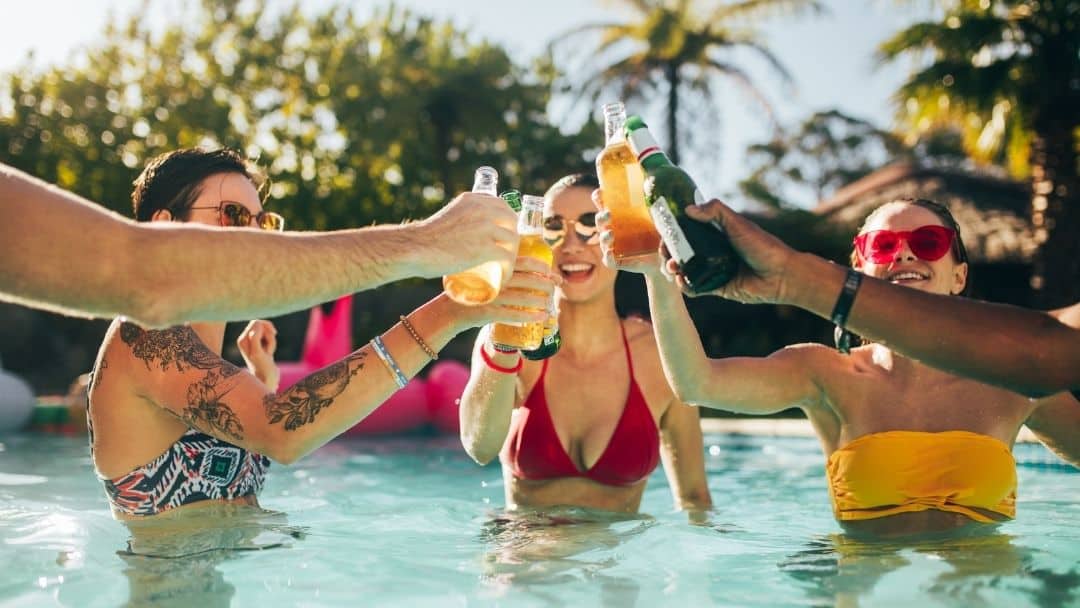 Low Maintenance and Cost
Check out these Above Ground Pool Landscaping Ideas on a Budget
A simple, modern pool deck that goes around the pools is often one of the options that most with little to no experience may choose. One of the possibilities for easy decoration on the pool deck is the use of outdoor potted plants like those in the image below. The addition of garden lighting will provide not just decoration but also useful as lighting for the pool area. Mulch could be used instead of grass and lawn for those that are low on time for the upkeep of their landscape. Use the extra outdoor space available near the pool by building a pagoda. Pouring concrete may well also keep maintenance low. No need to worry about the greenery or lack of color though! Adding a lavender bush will provide a splash of color to the pool space. Rock or natural stone pathways also enable a low maintenance option while enabling more garden landscaping to be done to enhance the appeal of the pools. Living plants and shrubs can also provide the needed beauty year-round when planting perennials that will come back year after year, without the need for much ongoing garden work.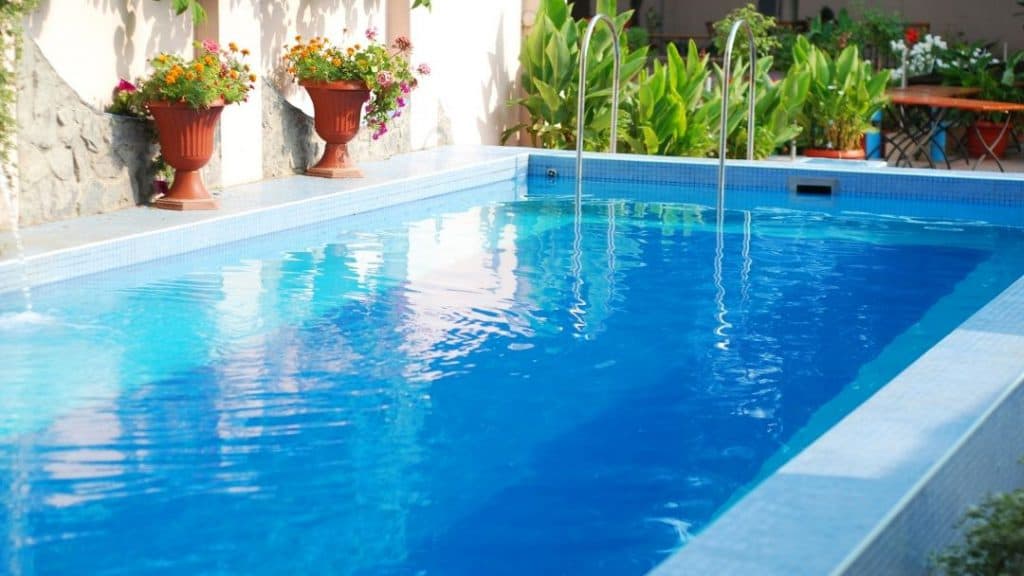 Creating a Themed Look Around Your Above Ground Pool
Make a Tropical Oasis to Surround Your Above Ground Pool
A tropical oasis is another natural option for those with above ground pools. This may well be done DIY, either on the pool deck in planters or around the backyard. Landscape the yard with palm trees and elephant ear plants surrounded by a sandy area. The palm trees also provide a little shade for those looking to get away from the sun. A sand box can entertain the kids for hours while adults recline near the pool and enjoy the sun or shade. Those looking for a relaxing time next to the pool can install a hammock too!
An added texture to the tropical oasis could be achieved best by the addition of a gravel or stone pathway, which can be created with either large or small stones. An attractive pagoda with curtains is a nice add-on to enhance the look and feel of a tropical oasis. The feeling of a tropical vacation might be had with many ideas like these. Another inspiration for you to consider adding to the pool area is to include a firepit for quiet evenings ones or a home barbecue with the family.

Create a Desert Oasis
Those looking for a different style to theme their above ground pool with may perhaps discover the attractive appeal of a desert oasis. Plants, hardy bushes and even cactus can be placed around the pool. The cactus will need little water to thrive, enabling those of us without a lot of time for gardening to still have greenery around the pool and backyard. A sandy rock terrain enhances the imagery of the desert design. Pathways can be created using red brick or clay and showcases the surrounding plant life. The pathways allow for the sand to stay outside of the pools, keeping down on your pool maintenance work.
Rocks also allow for a creative idea that provide an area for plants and shrubs instead of using mulch. This will aid in the control and elimination of weeds near your pool. The rocks are a good place for desert flowers to grow. The plants will provide a great splash of color to any backyard desert oasis. Flowers could be potted in clay pots for more of a southwest appeal. There are many ideas that the DIY person can come up with to help add appeal to their backyards above ground pool.
Asian Inspired Designs
If you're looking for ideas for an attractive Asian-themed landscaping around your above ground pool, there's several easy ways to create that type of look. An Asian inspired pagoda or bamboo fence will incorporate the design you're after. Paper lanterns enhance the feel of being in an Asian city and allow for extra lighting at nighttime pool parties. Another Asian inspired landscape feature is outdoor cushions, which could be placed on the ground around a table for guests and families dinning together near the pool.
Ponds are another feature that help to enhance the Asian atmosphere, they can be placed next to or near the pools. Ponds may perhaps feature lilies or lotus for the appearance of plants and other foliage you'd expect to find in the region. An additional feature of the pond for areas that have milder winters is goldfish. Those interested in the greenery of plants do not necessarily need to include a pond though. They can plant foliage such as hydrangea, lavender, plum trees, or even a Japanese maple tree. Nighttime entertainment that could go well around the pool is a fire-pit, allowing for warmth at late evening gathering. A backyard cook-out or just sitting around a cozy fire with a loved one surrounded by the Asian theme is a wonderful evening to end any pool day. Interested in the more modern Asian themed fountains that can enhance the environment and may possibly be placed close to the pool, you can check out a few options on Amazon. Some share the same water source or circulates the water in the pool, keeping maintenance to a minimum. Statues are yet another enhancement that can provide the Asian theme around your pool.
Moroccan Inspired Fountains for Your Pool
Morocco is a beautiful place to visit and vivid in colors. There are many ideas for the above ground pool that may be enhanced with the architecture styles and beauty of a Moroccan theme. Pool decks could be tiled with blue and green to showcase color. Fountains can be added for functionality and beauty, the octagonal shape will ensure that the Moroccan atmosphere is highlighted. Fountains may be placed next to the pool for a waterfall effect while providing a circulation of water to keep it fresh and welcoming. Overhead awnings over above ground pools allow us to continue with the theme and also provides shade from the hot sun. Symmetrical shapes also highlight the appearance of being in Morocco. Ornamental grasses below the poolside enhance the greenery of the area and allow for a place to plant extra-large plants for shade. Areas that are open could provide a space for roses to be planted to aid in filling the air with perfume. Those that have a deck surrounding the above ground pool will discover space for rugs and pillows. Rugs and pillows might be used for sunbathing without the need for additional furniture or fixtures. A symmetrical firepit may well be added to showcase the Moroccan theme, as well as a place to gather with friend and family after a day of swimming and excitement.
No matter the ideas you choose for theme of your landscaped backyard, it will add both character and beauty to your above ground pool. Each theme showcases the individual or family dynamic, and aids in both enhancing the enjoyment and entertaining capabilities of the above ground pool. Landscaping ideas for above ground pools can be handled by a professional pool contractor to help enhance the design the functionality of backyard pool.
Add Lighting Around Your Above Ground Pool – Highlight the Surrounding Decor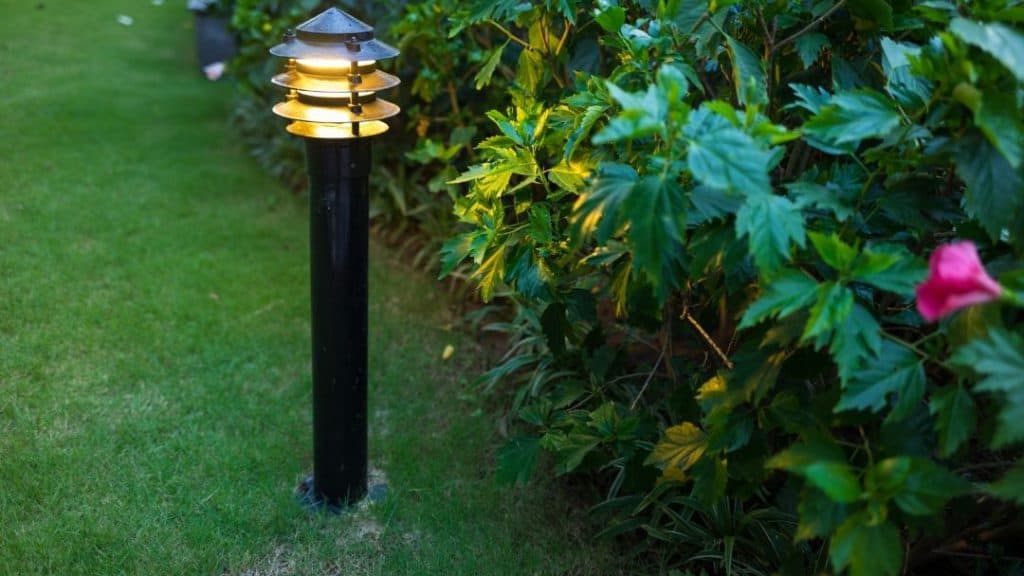 Once you figure out the right landscape design for the perimeter of your swimming pool, you might as well take your pool to the next level with some decorative outdoor lighting. There's almost nothing better than relaxing next to the pool on a late evening with a cold beer and good company, so why not add some pool lights so you can enjoy another round? Here's a few lights available on Amazon to help brighten up your pool surroundings:

Read More!
Enjoy the information on above ground pools? If you enjoy this type of content, you should check out a few of our posts at the links below: