Are you thinking of adding some garden furniture? Are you having a hard time choosing the best one from different materials such as synthetic wicker, natural rattan and many more? Well, if you're shopping from us, you can count on expert advice to find the best garden furniture for your home.
What's Best – Natural Or Synthetic?
Most people assume that natural rattan has a more appealing look in the garden. On the other hand, synthetic wicker furniture is more durable. Keep in mind that garden furniture needs to withstand weather elements and that's why synthetic garden furniture is the best choice for you. Natural rattan is hand woven but synthetic wicker is made out of resin, made to appear hand woven.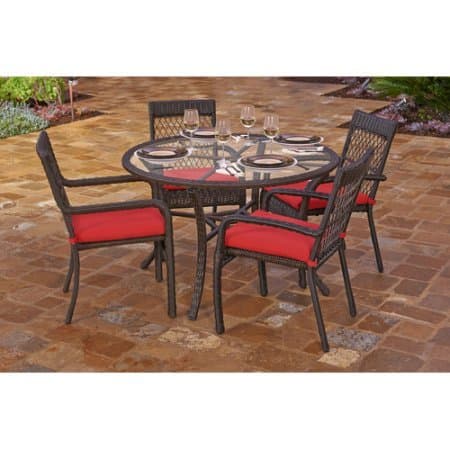 Naturally you would chose the hand woven garden furniture because it's springy with an inconsistent weaving pattern, brings out a certain charm. However, there is a disadvantage because the strands will unravel after about 3 to 5 years. If you buy the mass produced cheap garden furniture, you will notice the wear and tear after about 2 years.
Synthetic wicker furniture is often manufactured using a resin mold with a charming pattern ingrained into it. Looking at the two materials, the differences are negligible. However, if you take into account the durability, the synthetic wicker furniture is the best choice because it can withstand the natural elements. Therefore, with synthetic wicker furniture, you can count on your garden looking beautiful for a very long time.
What's The Best Furniture For Your Garden?
When you're purchasing garden furniture, you need to think about the style of your garden. Whatever you buy needs to blend in with the rest of the ambiance. Whether you have a modern garden or a clean decking area where you want to spend more time, you can always settle for a modern wicker lounge set. That way, you can count on durability and ample space to socialize while enjoying your beautiful garden. The best choice here is the California 3 seater set that looks beautiful on your decking area.
Is your garden the best place for making BBQ or enjoying a Sunday lunch? Well, you should consider a wicker dining set in this case. Here, you can opt for the Montana dining set with a large table that allows you to accommodate extra guests. The table top is made out of resin, which makes it easier to clean and maintain. Don't worry about the spillages while dining in your garden because you can clean them out very fast.
A more rustic dining room table could also look good if that's the sort of thing that you're interested in. There are plenty out there and they can really look the part.
Do you have a compact garden? Are you looking for the best place to watch the sunset? You could always enjoy your garden by adding some sun-loungers. They are very cheap and will look beautiful on your garden any time of the day or night.
What's The Best Color Scheme?
It's always best to get a matching color scheme for your garden furniture. If you have a modern garden with pastel colors, your furniture can always have a light color with a few blasts here and there. You can achieve the accent colors with some decorative and colorful pillows. Spice up the place when there are guests over. You can always try a bold move like having a two tone set, just like the Ibiza garden dining sets.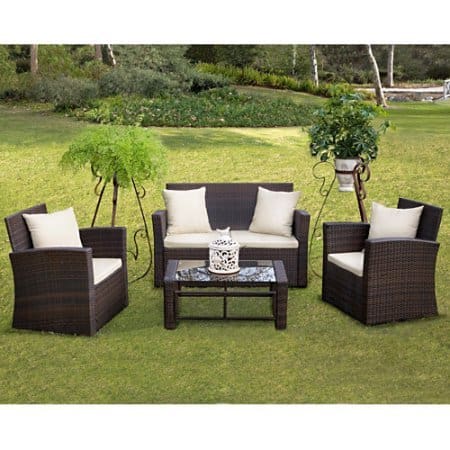 If your garden is traditional with lots of greenery as well as a blend of pruned areas and rustic appeal, you should settle for a solid dark dining set with rattan chairs. It will bring out a contrast and draw the right attention without draining your pockets. You can try the Montana garden dining sets, going for only 299 pounds. It's also perfect if you're struggling to pick the right color scheme for your garden. That way, you can count on future garden furniture purchases matching with the current one.
What's The Best Price?
When choosing garden furniture, the price is a very important and grey area to consider. Assess the price based on your budget and how much time you plan to spend in your garden. Do you spend your time when watching sunsets only? You should choose garden furniture that costs less than 300 pounds but can last at least 5 years. Do you have a conservatory as well as an outdoor living area? Well, you should choose something that you can use indoors during the cold winter season.
You can confirm the price by crosschecking similar items on websites similar to ours. Remember, if you don't like something you can always return any of your purchases within 7 days. Therefore, you can take the time to find the right thing for your garden in the right price.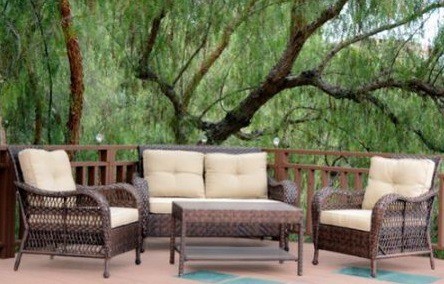 Is There Enough Space?
Do you have a small garden? You need to consider how much space you can use on your garden furniture. Do you have a modest garden that you use only in the summer? You should consider using as much space as possible as for garden furniture to make your garden functional. Add a dining set if possible. Keep in mind that a small functional garden is so much better than a large empty one.
If you have enough space in your garden and a decent amount of money, you should consider buying a dining set or a lounge set to use up the space. It's a good enough place to dine and wine guests. Certainly, your sunsets in the garden will be completely transformed. Even better, your dinners with guests or family will be completely magnificent.
We are here for any questions you might have regarding garden furniture. We have expert information on anything for your garden that transforms the entire look. Contact us today and let us help you transform your garden into a beautiful addition to your home.