What is the best fertilizer for rosemary?
Growing rosemary plants and unsure how to fertilize and care for them? Well, you're in the right place! Rosemary is both a beautiful ornamental evergreen as well as a valuable culinary herb. If you have the time, check out our helpful guide below to ensure you're doing it right when it comes to growing these herbs at home. If you're in a hurry though and just want to know where to buy rosemary plants or a good fertilizer option, we saved you some time and added what you need to know upfront. You're welcome! 😉👇👍
Buy Seeds
There are many options for germinating rosemary from seeds. Top name-brand companies like Burpee have submitted offerings to Amazon for sale online. Here's an option we found from a smaller US-based company that will send you 1,000 seeds for a very low price we found at the date of writing.
Gardening Info – Types of Rosemary
The Rosemary Plant is a semi-woody, perennial evergreen plant native to the Mediterranean area, which is why it's commonly used to enhance the old-world flavor of culinary recipes from that region. It's used as an essential landscaping design element for both it's fragrance, and because it add some beautiful flowers to help spruce up the look of otherwise all-green herb gardens. Just look at those bright, vibrant tuscan blue tones above with the green and brown backdrop. Rosemary flowers are stunning to say the least! Let's give credit where it's surely due.
Cultivated as an ornamental herb, it will grow great in the home garden. Plant your rosemary near other herbs like basil and sage as a powerful ward against pest insects that might otherwise terrorize your tomatoes and other plants. Rosemary is available in over 24 different varieties and displays a diverse array of colors, making it a favorite indoor-growing plant.
Available colors of rosemary flowers that can be purchased online or from home and garden centers are:
White blooms

Pink blooms

Violet blooms

Lavender blooms

Blue blooms
Depending on what your gardening preference is, you can also choose to purchase Rosemary cultivars suited for different growth habits such as creeping, twisting, trailing or upright as well as rosemary varieties that have a strong pine or lemon-scented fragrance. It's a lot to think about, but you'll probably be satisfied planting any variety you choose from. So try not to over-think it!
When to fertilize?
Rosemary is an adaptable plant and is well-suited to the topiary designs often seen planted in garden landscapes. Fertilize it during the spring and summer months with weekly soil applications of a high nitrogen formula organic fertilizer. Then to encourage the hardiness which Rosemary is known and loved for, withhold fertilizer during the fall and winter months. If it's submitted to a slight bit of stress like this it will just encourage root growth in these tough old plants!
Types of fertilizers to use.
For gardeners who aim to grow plants for culinary or medicinal purposes, it is preferred to use organic compost or well-aged herbivore manure, since these are free from toxic chemicals found in many forms of commercial fertilizers.Typical manures used are those that come from cow, sheep, horse, or chicken. Apply the organic fertilizer to Rosemary plants growing outdoors in the spring and in the late summer or early fall by sprinkling close around the base of the plant. Cultivate it lightly into the soil, and be sure to water it as well. Since they don't require as much attention, you can easily use a simple watering wand every week at the most.
Container Cultivation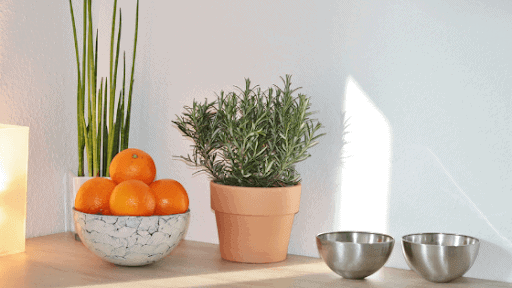 If you have limited space to grow your Rosemary in your garden, that is perfectly fine as Rosemary is well-suited to growing indoors. Use a container full of quality houseplant soil. It won't take very much space at all, so you can grow on your counter-top near a window in the kitchen.
PRO GARDENING TIP: Composting a small amount of used coffee grounds into your planting mix may help these herbs really take off in containers! For more tips on inexpensive soil amendments for your house plants, click here to learn about DIY garden soil amendments.
For outdoor container cultivation of rosemary, apply organic 20-20-20 non-acidic liquid fertilizer to your rosemary every other week, preferably while daytime temperatures remain above 50 degrees Fahrenheit. If you plan on growing rosemary indoors, you'll need a spot with at least 6 hours of light each day.
In the winter months, when it's time to move your container-cultivated Rosemary indoors, reduce fertilizing to only once a month. Ensure you place your Rosemary in a location where the plant receives ample morning sun and lots of humidity.
65 to 70 degrees Fahrenheit should be maintained for daytime temperatures while night temperatures should be cooler at 60 to 65 degrees Fahrenheit which is much-preferred by the plant. Watch out for powdery mildew in times of excessive rainfall.
Related Products on Amazon
Some final thoughts on rosemary
If you've never tried growing rosemary before, you'll be glad to know that this is one of the easiest plants to grow. They really love warmer weather and are extremely drought tolerant once you get them planted and established with deep roots in the soil. The first year or two when they are first starting out, you'll need to monitor them closely in dry weather for sure though.
Experienced gardening pros can usually see signs of distress though before the plant gets too dried out, and so can you. Just look for a wilted stem as a sign it's time to water, but don't overdo it!
Typically an inch or two of rainfall a month is all the water your rosemary needs outdoors, and over-watering can bring it's own set of problems for your plant. If you see a powdery mildew on your rosemary, it's a sure sign of too much water in the soil.
One of the best things about this plant is the dual role rosemary can serve in your home garden. It's considered an ornamental, so if you live in a spot with picky neighbors, it's the perfect way to grow some herbs in the front yard without anyone complaining – hopefully!
Rosemary, as we have already mentioned, is a culinary herb that's the perfect addition to spruce up the flavor profile of one of those classic Tuscan Italian Soup recipes you've been craving. Tossing a few fresh sprigs into your favorite poultry recipes is an amazing delight as well. Add some fresh-grown herbs to your diet by growing your own rosemary at home in your garden!
Check out our blog for more gardening advice