The Best Garden Hose Reel Reviews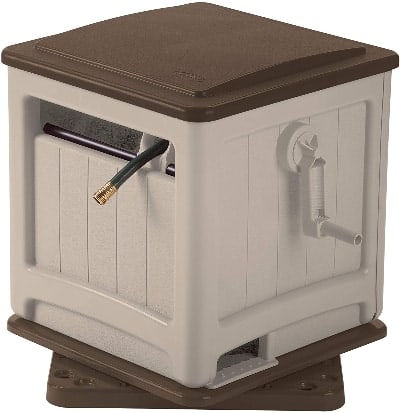 Suncast
If you don't want to mount your hose reel on a wall, the Suncast 225ft swivel hideaway hose reel is the best choice for you. It has a hose guide to keep things neat and an easy-to-use crank handle. Store your garden hose out of the sunlight and make it last a bit longer with this product by Suncast.
CHECK CURRENT PRICE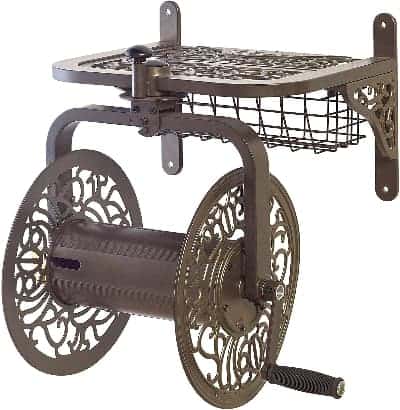 Liberty Garden
If you're going for a classic look, then look no further than the Liberty Garden 714 Decorative Cast Aluminum Rotating Garden Hose Reel. It comes in four different styles at the time of writing, so you can match it to your home's exterior easily. This reel holds up to 125 feet of 5/8 inch garden hose.
CHECK CURRENT PRICE
Garden Hose Holder Reviews
Budget Option – The Artigarden Garden Hose Holder (Hanger)
If your don't mind a little extra work rolling up your garden hose, this Artigarden budget option may be your best choice. While it's not a reel and technically a holder instead, this sturdy option from Artigarden allows you to choose the best space to store your garden hose anywhere in your yard by simply driving the metal spikes into the ground.
And it's not just limited to that either because the Artigarden unit will also stand up independently on concrete while holding the weight of up to 125 feet of standard garden hose. This makes it a great option if you plan to store it in a garage or on your patio. If you commonly have to connect two or more hoses together to reach an area, this is the perfect solution for the money because it's so easy to move and stake your 2nd hose in the ground wherever you need it.
Benefits of Artigarden:
Organize anywhere! Perfect for large veggie gardens.
East to move around as needed.
Increases root growth and lateral development.
Has over 700 5-star reviews on Amazon at the time of writing.
Sturdy and dependable – made with heavy-duty steel
Can stand on concrete independently!
QUICK FACTS
The hose hanging height is 33.5 inches, which keeps you from having to bend over and possibly strain your back to reach it. Some assembly is required with this unit but only to the extent that there are a total of 6 screws used to attach all three sections of the hose stand together. It's rated to hold up to a 125 ft. section of standard garden hose and features sturdy steel construction.
PROS
Simple design
Low price
Durable construction
Rapid ease of portability
CONS
Extra work winding hose
Only rated for 125 ft.
Minor assembly required
Should be kept indoors when not in use
Retractable Garden Hose Reel Reviews
The Giraffe Retractable Garden Hose Reel System
Easily locks at any length and features automatic rewind system. The Giraffe will stretch up to 130 feet in length with its built-in hybrid hose system which removes the need to buy your own garden hose. This will-mounted hose reel is rated up to 200 PSI with a burst test rating all the way up to 600 PSI!
For simplicity and ease of use, there is no better garden hose reel out there that we could find. This makes a great option for people who are frequently using their garden hose who want to never deal with manually reeling it in when the job is done. The easy retractable system with included water hose will rapidly reach 130 feet into your yard to supply water to those hard to reach places. Once you're done, you can leave it mounted on the wall or even remove the enclosure from the mount for easy indoor storage.
Since 1996 Giraffe has been on a mission to be the leader in automatic retraction hoses. They are committed to helping make your life easier and stand behind their product. It shows too because at the time of writing there are over 700 5-star reviews on this hose reel!
QUICK FACTS
The modern, compact design of the Giraffe Garden Hose Reel allows for installation almost anywhere and it's a clear winner in terms of ease of use. The included sprayer has 9 adjustable spray modes and you can cover a 130 foot distance easily with the all-weather abrasion resistant hose. The sprayer is removable if needed and you can also remove the entire system from its mount and store elsewhere.
PROS
All-in-one solution
Compact, modern design
Easily locks at any length
Easily mounts to any wall
Zero time spent manually reeling!!!
CONS
Higher end of the price scale
Must use included anchors to attach to wall
Garden Hose Reels on Wheels
Go Far With the Ironton Mobile Garden Hose Reel
For the third model on our list of the best garden hose reels, we're going mobile…For anyone with a massive backyard we've included the Ironton Garden Hose Reel Cart. It holds a 5/8in. x 300ft. water hose over four sturdy pneumatic tires that were built for the most rugged terrain. It's rugged and features all tube steel construction.
If you check out all the reviews, you may see people mention rust and corrosion around the wheels. Let's dive into that topic before we write off the Ironton product because it is also a common complaint with the steel construction carts sold by other hose reel manufacturers on Amazon.
It's important to understand this product and follow the manufacturers instructions! As sturdy as this cart is, it is also made of steel which needs to be protected from prolonged exposure to water. You should purchase a can of clear coat paint and apply it to all surfaces after assembly. Aside from that, some common sense things like covering it with a BBQ grill cover or bring it into the garage after each use will keep this product in service for years to come.
QUICK FACTS
This hose reel cart is made to cover great distances and comes with a 6-ft. leader hose built into the design of the tough and sturdy tube steel frame. It includes a small basket to hold your garden tools and includes steel fasteners with a zinc finish for added durability.
PROS
Built TOUGH
300 ft. (+6 ft.) range
Comfort grip handle
Rugged tires and steel axle
Built-in basket for tools and accessories
CONS
Requires some assembly
Like any other tool, it's best to keep indoors between uses
Some users reported issues with the hose connector at the time of writing
Budget Hose Cart
175 Foot Hosemobile Reel Cart Caddy by Suncast
Keep your garden hose organized and ready to use with the Suncast Garden Hose Reel Cart. This durable, molded plastic cart is built to resist rusting so it will last through years of outdoor use. It's perfect for small lawns or patios! It can hold 175 ft. of water pressure without breaking a sweat – which means you won't have any trouble watering plants no matter if they're near or far from the spigot. The reel comes fully assembled and features crank handles that make winding simple and kink free, but what really sets it apart from all other hose reels is the brown taupe finish, which blends in seamlessly with most exterior paint colors so there's never an eyesore on your property when guests come over.
When it comes to price, features and materials the Suncast Garden Hose Reel is one of the best values out there.

QUICK FACTS
For the occasional DIY gardener that needs a reliable way to water the lawn and a few trees, this Suncast system features room for a 175 foot standard water hose. The smooth crank handle makes winding and unwinding the hose reel simple and easy. Priced affordably, this is one of the best garden hose reels for average sized yards.
PROS
Affordability
No assembly required
Manages 175 feet of garden hose easily
Comfort grip handle
CONS
May not work as well with heavier hoses
No protection for garden hose if left outside
Hideaway Garden Hose Reel Reviews
Suncast Resin Hide-Away Outdoor Storage Hose Reel
Another offering from Suncast, this resin hide-away hose reel box was MADE for outdoor use. Rust won't be an issue here and you don't have to worry about UV damage to the garden hose either. This garden hose reel by Suncast features a neutral java toned exterior that's perfect for blending in with your landscaping.
This Suncast product requires absolutely no assembly, making it a very appealing reel system for those without the time or patience to put anything together. It's durable because resin materials won't rust from the water it's bound to be exposed to. This garden hose reel works with up to 225 feet of standard 5/8 diameter garden hose.
QUICK FACTS
This hose reel system by Liberty Garden comes ready to use with no assembly required. It's a hideaway outdoor system made with a durable acrylic resin that can be placed anywhere in your yard. It features a reel guide track that neatly stores up to 225 feet of hose length. 
PROS
Built with acrylic resin that will not rust
225 foot hose range
Stylish design
Slide-track guide holds hose in place
CONS
Not as easy to move as a system with wheels
Takes up more space than a wall mount hose reel system
Decorative Copper Pot
An Innovative Soution by the BIRDROCK HOME store
Want your garden hose to become completely invisible? Add a beautiful new feature to your back yard with this all metal garden hose container by BirdRock.
Last summer, we finally got fed up with the old hose holder that was leaking water after years of use. It was here when we moved in and it was an older wall mounted system. It looked like an ugly metal spider on the wall and it made watering so difficult! So I went on a search for something nicer-looking but still functional. That's when I found this great deal: The BirdRock Home Water Hose Holder has been doing excellent duty as my new home water hose container ever since its purchase last year. It sits on the deck and guests comment on how nice it looks.
QUICK FACTS
Make your hose even more organized and attractive with this hidden all metal garden hose pot! The center post can be removed to store other items in the holder. It has a drain plug for easy cleaning and is one of the best hideaway garden hose reel options out there.
PROS
All metal construction
Hidden and organized
100 foot capacity
CONS
Takes a little more work than options with a handle or automated retraction
Less portability than some other choices
Blake
Blake's been managing this website since 2016. He provides editorial review of all our content, publishes our newsletter and is the person to reach out to for advertising opportunities. Info@fertilizerforless.com