Fertilizer for Less Natural Kelp Plant Food for Gardens – Lawns
Neptune's Harvest for Healthy, Productive Plants
Available Kelp Fertilizer Sizes:
4 pounds
12 pounds
50 pounds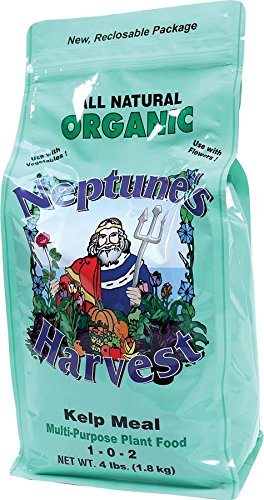 Kelp Fertilizer Product Description
Neptune's Harvest Organic Kelp Meal contains Ascophyllum Nodosum. It's widely recognized as one of the finest marine plants available for your garden. Kelp meal in general is a natural and affordable addition to any soil fertility program. Kelp Meal Fertilizer is well-suited to any and all crops and applications. It contains minerals, carbohydrates and amino acids that build up organic matter in your soil. Retain more moisture and enhance healthy root systems with natural and organic kelp meal from Neptune's Harvest.
Kelp Meal to Stimulate Plant Growth
Gardens are only as good as the soil you're growing in. And most soils lack a proper balance of nutrients needed for ideal plant growing conditions. Kelp is a 100% natural fertilizer harvested from our oceans. It's been used for centuries in gardens all over the world.
Ocean waters contain every natural element we know of. Kelp meal contains all of those nutrients in varying concentrations, and it's a proven growth supplement. You can use it to boost the growth of any plant in your garden. Choose Kelp Meal: The Ecological Choice for Lawn & Garden Fertility. Here's a few of the benefits you can expect with Kelp Fertilizer:
Improves overall tolerance for heat, cold and lack of moisture
Increases nitrogen (N) uptake
Reduces susceptibility to pest insect attack
Boosts early development of plants
Helps improve oil content in certain seeds like sunflower
Seed formation and nitrogen fixation in legumes is improved
Optimized for foliar feeding
Great for overall plant health
All-Natural Kelp Plant Food Formulation
Because of the properties of kelp,these fertilizers have an excellent nutrient profile. There are high levels of plant-growth hormones, micronutrients, amino acids, and potash in Neptune's Harvest Organic Kelp Meal. Your plants are going to love it. Kelp promotes hearty plants because it reduces the susceptibility to heat stress, droughts, and cold spells. Kelp may also promote faster growth and fruit quality. Give it a try this season.
A Well-Balanced Formula
Additionally, Natural Kelp is rich in fulvic and humic acids. These compounds unlock nutrients from the soil. They act as chelating agents and also aid in foliar and root uptake. Finally, they act to increase soil microbial activity. This has an overall beneficial impact to your plants because other nutrients become bioavailable. When microbes multiply, they convert organic matter into humus and further nourish the soil. These nutrients are slowly and steadily released. So, this gradual process boosts growing plants and crops.
General Applications
Natural Kelp is excellent for, but not limited to, the following common crops:
Application rates may change according to plant type, soil condition or weather.
California Department of Food and Agriculture Certificate of Registration for Organic Input Materials (40k PDF)
Washington State Department of Agriculture Material Registration Certificate (3MB PDF)