Liquid Bonemeal 0-12-0 by AGGRAND
Encourages Healthier Vegetable and Flower growth with Fast- and Slow-Release Phosphorus
Liquid Bonemeal
Available Sizes for Purchase:
(1) 32-oz. bottle liquid bonemeal (singles)
(12) 32-oz.bottles (by the case)
(1) 2.5-gallon bottle (singles)
(2) 2.5-gallon bottles (twin-packs)
(1) 55-gallon drum
(1) 275-gallon tote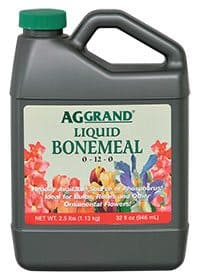 Product Description
AGGRAND Liquid Bonemeal 0-12-0 (NBM) is a concentrated liquid formula. It has readily available phosphorus (P). We suggest it for application during transplanting of vegetable and flower starts. Liquid Bonemeal is also great for planting of bulbs and seeds. It promotes root growth for fast-growing, healthy plants. So, consider adding it to your root crops this year. With AGGRAND, carrots and potatoes increase in size and root/tuber quality. Garlic bulbs produce bigger flowers and can be split more frequently. Just imagine the yield per acre boost. AGGRAND is an ideal product for farmers seeking a natural fertilizer with proven results. So, give it a try today.
Fast- and Slow-Release Phosphorus
Phosphorus helps with plant establishment. It is also great for blooms and yields of high-quality flowers and fruit. However, many powdered bonemeal products can take years to break down. This locks the phosphorus in the soil. It is unavailable to plants for a long time. AGGRAND Liquid Bonemeal is ground more finely before liquid formulation. Most competitors do not use this level of care when preparing their product. Slow release doesn't really help if your plants have a deficiency now! Because of this concern, AGGRAND Liquid Bonemeal is quickly available to plants. It spreads more deeply into the root zone. We find it easier to apply the liquid formula.
The quick-release minerals in AGGRAND Liquid Bonemeal provide an exceptional foliar feed application. In fact, foliar feeding can be 20 times more efficient than root application. It is great for trees, flowers, vegetables and crops. Do your plants require extra phosphorus during early bud formation and fruit enlargement? If so, try AGGRAND! It offers bioavailable phosphorus for early plant growth. It also slowly releases more through the growing season. So, your plants have nutrients for now and later.
Rapidly available supply of phosphorus (P) and calcium (C)
Formula that treats plants into the growing season
Great for transplants and blubs
Outstanding results with root crops or fruit trees
Excellent boost for flowering plants
Easy to use liquid formula. Better absorption into the soil.
Can be mixed into other AGGRAND liquid fertilizer dilutions for easy use
Target specific nutrient needs according to growth cycle
Excellent boost for tomatoes and cabbages
Cost effective alternative to chemical fertilizer.
Balanced Formulation for Root Growth
AGGRAND Liquid Bonemeal contains calcium. Lot's of it! This can improve soil tilth and cation exchange capacity (CEC). It is great for correcting calcium deficiencies, both in tomatoes and cabbages. Liquid Bonemeal boosts early plant growth. Because of this, AGGRAND helps you produce high-quality fruits, flowers, roots and row crops. Try it if you've never had any success with cabbage. You might be surprised! Let us know how it went after the growing season is over. Send us an e-mail at sales@fertilizerforless.com. We love to hear from our customers. So, reach out and share your gardening stories with us.
Applications for Liquid Bonemeal
Liquid Bonemeal by AGGRAND is recommended for, but not limited to, these crops:
Application rates may vary. Check out the AGGRAND Crop Guide (G2793) for detailed application information.
AGGRAND State Registration List (52k PDF).
G2794 – AGGRAND Liquid Bonemeal Data Bulletin (375k PDF)
SDS:
AGGRAND All Natural Liquid Bone Meal 100k PDF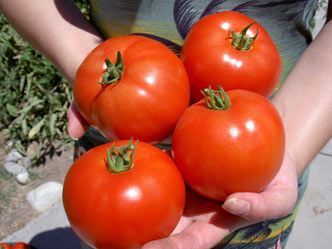 Want to Save Even More Money?
Who doesn't like saving money? You can sign up for a wholesale account with us. As long as you are operating a commercial Ag or Lawncare business, you qualify. So, visit this page to get signed up today. You will get a wholesale account on the AMSOIL site. Simply follow the "Open a New Commercial Account" link. It can take as little as five minutes. Get signed up before you buy.