Fertilizer for Less Natural Kelp and Sulfate of Potash 0-0-8
AGGRAND's Formula for Healthy, Productive Plants
Our Kelp Fertilizer Sizes:
(1) 32-oz. bottle (single use)
(12) 32-oz.bottles (sold by the case)
(1) 2.5-gallon bottle (singles)
(2) 2.5-gallon bottles (twin-packs)
(1) 55-gallon drums
(1) 275-gallon bulk totes for sale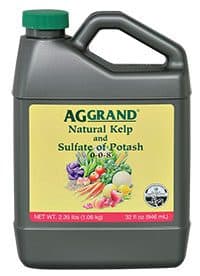 Kelp Fertilizer Product Description
AGGRAND Natural Kelp and Sulfate of Potash 0-0-8 (NKP) is a liquid concentrated formula. It contains 8% readily available potash (K2O). Our product is recommended for use on all types of crops and plants. Some of the benefits include dark green leaves, healthy stalks, better root growth, improved vigor, less blemishes, higher nutrient uptake, and reduced susceptibility to insects or disease. You might also increase your product shelf life after harvest. AGGRAND Natural Kelp and Sulfate of Potash is great for farmers looking to go natural while reducing costs. Our Kelp fertilizer is ideal for foliar feeding. Foliar feeding is up to 20 times more effective than soil feeding.
Potash to Stimulate Plant Growth
Potash is considered the "universal helper". It is a major contributor to plant health. We know that it regulates many processes within plant cells. It must be present in large quantities because it is a component of the fluids that flood plant tissue. So, plants that lack potassium are susceptible to insect attack. They tend to have weaker stalks or shallow root systems. Therefore, potassium deficiency should be guarded against by keeping some AGGRAND Natural Kelp and Sulfate of Potash handy. Spend time observing your plants. You might catch a problem before it gets out of hand. If you do, our Kelp Fertilizer is great to have at the ready.
Our product contains minimally processed sulfate of potash. We derive it from the Great Salt Lake in Utah. So, unlike other sources of potassium, sulfate of potash does not contain chloride (Cl). This is of note because chloride harms soil life. The potassium found in AGGRAND Natural Kelp and Sulfate of Potash will produce high-quality plants. That's in direct comparison to other potassium sources. An additional benefit noted is the bioavailability of nutrients. Sometimes as little as 7-8% of the nutrients in fertilizers are used by plants. They have trouble absorbing chemical fertilizer. So, expect amazing results with AGGRAND.
Improves overall tolerance for heat, cold and lack of moisture
Increases nitrogen (N) uptake
Reduces susceptibility to pest insect attack
Boosts early development of plants
Helps improve oil content in certain seeds like sunflower
Seed formation and nitrogen fixation in legumes is improved
Optimized for foliar feeding
Great for overall plant health
Sulfur: "The Fourth Element"
Our formulation has 2 percent sulfur (S). Sulfur has been referred to as "the fourth major nutrient". We couldn't resist the movie reference when we read that! It benefits plant growth and must be present in in the soil and plant tissue. Otherwise, plants will not realize the benefits of nitrogen and potassium. Sulfur helps produce higher-quality vegetables, legumes, small grains, tree fruits, and shrubs. Higher vitamin A production in forages and legumes is another benefit of available sulfur.
All-Natural Kelp Formulation by AGGRAND
AGGRAND Natural Kelp and Sulfate of Potash uses kelp concentrate. It is extracted from Ascophyllum nodosum. This is a species of seaweed that is native to the frigid North Atlantic Ocean. Because of the properties of this material, our fertilizer has an excellent nutrient profile. There are high levels of plant-growth hormones, micronutrients, amino acids, and potash in our product. Your plants are going to love it. Kelp promotes hearty plants because it reduces the susceptibility to heat stress, droughts, and cold spells. Kelp may also promote faster growth and fruit quality. Give it a try this season.
A Well-Balanced Formula
Additionally, AGGRAND Natural Kelp and Sulfate of Potash is rich in fulvic and humic acids. These compounds unlock nutrients from the soil. They act as chelating agents and also aid in foliar and root uptake. Finally, they act to increase soil microbial activity. This has an overall beneficial impact to your plants because other nutrients become bioavailable. When microbes multiply, they convert organic matter into humus and further nourish the soil. These nutrients are slowly and steadily released. So, this gradual process boosts growing plants and crops. AGGRAND Natural Kelp and Sulfate of Potash also contains a natural wintergreen essential oil. Trust us, you want wintergreen in there. It helps to improve the scent! Overall, it is a well-balanced formula for your plants.
General Applications
AGGRAND Natural Kelp and Sulfate of Potash is excellent for, but not limited to, the following common crops:
Application rates may change according to plant type, soil condition or weather. Consult the AGGRAND Crop Guide (G2793) for additional detailed application information.
AGGRAND State Registration List (52k PDF).
G2795 – Natural Kelp and Sulfate of Potash 0-0-8 Data Bulletin (295k PDF)
SDS:
AGGRAND Natural Kelp and Sulfate of Potash 100k PDF
AGGRAND Natural Kelp and Sulfate of Potash – Canada 86k PDF
California Department of Food and Agriculture Certificate of Registration for Organic Input Materials (40k PDF)
Washington State Department of Agriculture Material Registration Certificate (3MB PDF)