AGGRAND Liquid Lime by Fertilizer for Less
Quality super-fine limestone soil amendment
Specially formulated lime for root or foliar application
Great for lawns, pastures and hay fields
Add to AGGRAND Natural Fertilizer 4-3-3 to supply more calcium
Simple to apply liquid concentrate that produces no dusty mess
Great for beyond organic gardening
Liquid Lime Sizes:
(1) 32-oz. bottle (singles)
(12) 32-oz.bottles (by the case)
(1) 2.5-gallon bottle (singles)
(2) 2.5-gallon bottles (twin-packs)
(1) 55-gallon drum
(1) 275- gallon tote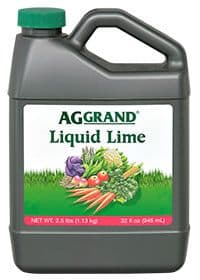 Product Information
AGGRAND Liquid Lime (NLL) is an effective alternative to bagged lime products. So, it is great to use on ground covers like pastures, or hay fields. We use finely ground limestone suspended in liquid. It can be absorbed by leaves and roots immediately. AGGRAND Liquid Lime can be used with AGGRAND Natural Fertilizer to bring extra calcium to crops like potatoes, tomatoes, lettuce or cabbage. These crops tend to require lots of calcium. AGGRAND is excellent of you need a natural soil amendment. We have product documentation that proves effectiveness.
Increased Calcium Levels with AGGRAND
Calcium is important to overall health. Because it  regulates opening and closing of the stomata (leaf pores), plants are better equipped to fight disease. It also removes toxins from the tissue and contributes to the development of shoots and roots. This makes the plant more resistant to pests. Sometimes acidic soils lack calcium. If soil pH is below 6.0, you might experience yellow leaves, slower growth of roots and shoots, or sudden die-back of growing tips. We can rapidly correct calcium deficiencies. Often, without the need to resort to bagged lime. Because absorption through the leaves is rapid, we prefer foliar feeding with our product. Keep some lime on hand in case of emergencies. It has saved more than a few plants on our homestead.
Lime Promotes Soil Health
Adding lime can be vital to the health of freshly planted lawns, or pastures. Lime will benefit soil microbial activity and the spread of earthworms. Ideal soil health requires the addition of bioavailable nutrients. AGGRAND Liquid Lime will boost growth in pastures and lawns. So, consider adding it to your existing management plan.
Lime Application Guide
AGGRAND Liquid Lime is great for, but not limited to, these applications:
Pastures
Turf
Hay Fields
Lawns
Ground covers
If mixed with AGGRAND Natural Fertilizer 4-3-3, AGGRAND Liquid Lime is great for, but not limited to, these applications where extra calcium is needed:
Tomatoes
Lettuce
Cabbages
Potatoes
Kohlrabi
Application rates change to plant/crop type and soil conditions. Check out the AGGRAND Crop Guide (G2793) for more detailed application references.
AGGRAND State Registration List (52k PDF).
G2796 – Liquid Lime Data Bulletin (240k PDF)
SDS:
AGGRAND Natural Liquid Lime 104k PDF