Fertilizer Dealership Opportunity
Become an AGGRAND Fertilizer Dealer Today. Start Your Business for less than $50. Unlimited Earning Potential.
Opportunity:
Low Startup Fee
No Territory Restrictions
Zero Inventory Requirements
Absolutely No Capital Investment
No Employee Expenses or Requirements
Instant Access to Marketing Material
Mentorship from an Established Dealer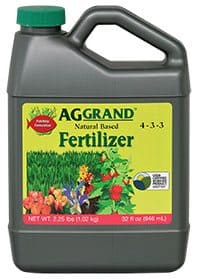 Why Should You Consider the AGGRAND Dealer Opportunity?
If you're like me at all, you probably don't like being told what to do and when to do it. I worked a "regular job" for 20 years before I decided to take the entrepreneur path. Now I set my own schedule. My earnings potential is limited only by my own effort. I'm working to make money for ME, instead of a corporation. Plus, I feel great about selling a product that saves farmers money while helping the environment. AGGRAND fertilizer is sold through independent dealers. People just like you. Sometimes people want to earn a side income or "bootstrap" a business without a huge financial burden. If that's you, AGGRAND is a great opportunity. So, consider the opportunity to become an AGGRAND dealer and kick-start your dreams.
AGGRAND: All the Advantages of a Franchise Without High Startup Cost
The trend in America today is moving towards small business and away from the traditional 9-5. Being a business owner gives you the freedom to work on your terms. You get the opportunity to set your own goals. Do you need to take off to go to the doctor or pickup your son from school early? Don't bother calling the boss anymore, just do what you need to. That's the freedom business ownership offers. The AGGRAND dealer opportunity gives you the advantages of a franchise without the large cash investment. There's so many advantages to the AGGRAND opportunity! You can get started in less than 10 minutes, and be on your way to success.
Feel Great About Your "Job"
The AGGRAND Dealership opportunity just makes you feel good about what you do. There are so many products out there in the direct sales field, but how many of them allow you to improve the environment for our children? A leading cause of pollution harming our waterways is the runoff from chemical fertilizer. Each time you convert a farm over to natural and organic fertilizers, you're doing a small part to eliminate nitrate runoff. Help clean up our lakes and rivers while earning a great commission.
Opportunities for Selling AGGRAND
Sell AGGRAND as a Dealer. Here are some great sales opportunities:
The opportunities are many, and the commissions are great. The organic food industry has grown by double digits each year since the USDA organic program was founded. Tap into a growing market for $50 or less in startup costs.