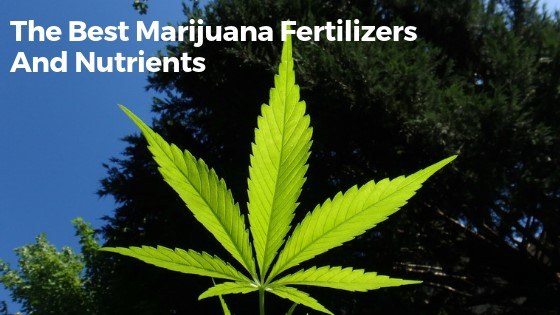 Whether you've already started growing marijuana or just planning to get started, knowing what are the best fertilizers and nutrients is crucial. The cannabis plant is known for replenishing soil, but if you're looking for the dankest buds with a rich terpene profile, you'll definitely want to give them an added boost.
It may seem that everything is of equal importance when it comes to growing marijuana, but fertilizers and nutrients play a vital role in your plants' health, growth potential, and potency. So, it is important that you choose the right fertilizers with the right nutrients to help your plant flourish.
Nutrients
A cannabis plant needs specific elements which are referred to as the "macronutrients" that cover both mineral and non-mineral elements.
The three main macronutrients needed by your cannabis plants are nitrogen, potassium, and phosphorus which are found one very bag of fertilizer represented by 3 numbers printed on the front. These numbers state what percentage of these 3 nutritional needs the fertilizer hasand can provide your plant.
Aside from the above 3, there are other macronutrients needed by your cannabis plants as follows:
Hydrogen
Oxygen
Sulfur
Calcium
Carbon
Magnesium
In addition, your plant also needs a trace amount of some elements, namely:
Chlorine
Cobalt
Boron
Iron
Zinc
Molybdenum
Silicon
Copper
Manganese
Top 5 Fertilizers for your marijuana plant
To make it easier for you to choose the best fertilizer to feed your plants, we had listed below the top 5 best fertilizers you should check out.
1.  Cutting Edge Solutions Uncle John's Blend Growing Additive
Features:
Increases your plants' metabolic rate for a more healthier and perky plant.
Has complex, potassium based mixture that stimulates healthier photosynthesis cycles.
Has low molecular weight which means it won't sit heavily on your plants.
Cons:
Pricey
For organic growers – this fertilizer isn't using an organic compound
Application: Twice a week.
2.  Orga Grow Holland Organic Nutrients and Liquid Fertilizer
Features:
Specifically designed for cannabis growth and has a simple formula.
Organic
3-step growth system that aids cannabis plants from initial planting to final stage of growth.
Has root stimulator which isn't a common formula.
Cons:
Not for new growers as signs that it's time to switch to the next step isn't very easy to identify. So there's a risk of overfeeding.
3.  Fox Farm Liquid Nutrient To Soil Formula
Features:
Offers hydroponic option
Fits any strain
Perfect for first-time or seasoned growers
Great price
Provide attention to the plant's vegetative stage and not only to producing big buds
Has minimal risk of overfeeding
Cons:
Generally, this fertilizer is close to perfection. Nothing to dislike really. But first-time growers may need to pay close attention so as they would be able to switch from another stage at the right time.
4.  13 Essentials Foliar Spray Fertilizer
Features:
Great for any plants and not just for marijuana
Has all the macro and micronutrients that your plant needs
Not prone to overfeeding (but still possible)
Encourages the plants to carry out its normal lifecycle
Cons:
Pricey
You need to be cautious during the preparation to ensure the plant will get its needed nutrients
5.   General Organics Go Box
Features:
8-in-1 organic fertilizer
Perfectly safe for your cannabis due to its all organic components.
Reasonable price
Cons:
Not all formulas as OMRI certified
Ready to kick-start your marijuana-growing journey? Visit Fertilizer for Less and shop for great fertilizers at affordable prices!